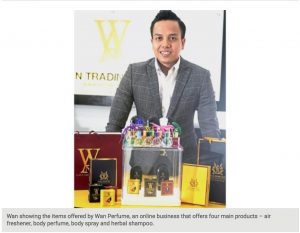 Alhamdulillah syukur pada mu ya ALLAH, sebenar liputan dari the stars ni wan tak sangka, sblm ni ada hamba ALLAH dari the stars datang office dan menyatakan ingin masukkan tentang product WAN dalam the stars, tapi di sebabakan kesibukan dengan manage stokis dan office, artikel ini terlepas, semalam tiba2 terasa nak cari gambar lama di google, tiba- tiba terlihat artikel ada di dalam the stars, rupanya Tuesday, 10 January 2017 lagi di siarkan, syukur sesangat pada ALLAH, satu lagi medium untuk wan kenalkan product WAN kepada rakyat malaysia. terima kasih juga kepada sahabat wan KHAIRUL AZIM ( ceo k&a CREATIVE ) kerana kenalkan wan pada hamba ALLAH dari the stars. semoga ALLAH perluaskan rezeki anda berdua. amin.
WAN Mohd Harizmi Wan Omar has developed a "nose" for good perfume after working as a sales agent in a perfume company for seven years, and set up Wan Perfume, his own online business.
Wan said he knows what constitutes a good perfume and can tell whether a perfume is any good from far away.
He and his business partner, Hishamuddin Salleh, spent RM20,000 to kick-start Wan Perfume, which operates under HSBWan Trading Sdn Bhd at a three-storey shoplot in PJS 5, Petaling Jaya.
"I'm addicted to good scents, and I think most people would love to have branded perfumes but cannot afford them. So, I decided to sell non-alcoholic perfumes inspired by branded perfumes. My target is the middle-income group," said Wan, chief executive officer of HSBWan Trading Sdn Bhd.
But selling only non-alcoholic perfume is not easy. The first hurdle was building the brand name, and later, selling it by volume.
Wan Perfume has four main products – Wan Air Freshener (with 15 different fragrances), Wan Body Perfume (for men and women), Wan Body Spray, and Wan Herbal Shampoo (which promotes hair growth).
The Wan Air Freshener comes in miniature bottles with fragrances such as Vanilla, Lavender, Pandan, Escalade, Lemon Lime, Sparkling Lemon, Honeydew and Apply Blossom. They sell for RM10 each.
The Wan Body Perfume offers four types of perfume for men and 10 for women. This range comes in 5ml bottles of 100% concentrated scent that lasts for 12 hours.
"Getting people to believe in the product and buy it is the difficult bit," said Wan.
"Building the brand name 'Wan Perfume' took a longer time since we have to gain customers' trust first. But I am glad word-of-mouth promotion and support from friends have made it possible," said the young entrepreneur, who managed to break even after three months in business.
Within eight months of operations, Wan managed to sell 400,000 items, and he has recruited 180 stockists and thousands of agents.
"Everyone has a special perfume that they like. As they say, one man's meat is another man's poison, so preferences differ from one person to another," said Wan.
"That is why sometimes you find a floral perfume smelling saccharine sweet to you. The only scent that smells the same to everyone is citrus," said Wan, who plans to increase his range of products soon.
He said citrus has always been a popular choice, because it has a refreshing fragrance and an air of elegance and freshness. Fruity notes and floral scents are a favourite among women because they give out that romantic and feminine scent.
"The most popular perfumes for men are the traditional woody, musky, spicy or aquatic scents. The exotic ingredients in men's perfume contain intense spices, which give out masculine scents.
"We have a good collection of best-smelling perfume for men and women, inspired by some of the branded perfumes in the market," said Wan.
The best part about Wan Perfume is that they are inexpensive, easy to carry around and effective.
"Ours is an exclusive assortment of scents that can last 12 hours. Since it is concentrated, just a few dabs is enough to make you feel fresh.
"We have something for everyone in our collection," said Wan who sells more than 70,000 bottles every month and has 20 employees to assist him.
Wan's ultimate dream is to recruit more entrepreneurs to grow the Wan Perfume brand and make them financially independent.
"We want to recruit more distributors, stockists and agents. It's so easy to be an agent. You just have to buy the test kit for RM50 to be a distributor. We also have other packages for stockists and agents," he concluded.
copy dari the stars online